Thymes Simmered Cider Votive Candle
Product Description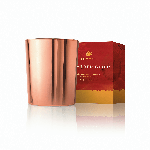 Thymes Simmered Cider Votive Candle
Thymes Simmered Cider Votive Candle is a beautiful rose gold candle that will glows beautifully in any space this autumn and all the way into the holiday season.
Give an excuse to gather round and cozy up with a simmering blend of freshly-pressed apples, cardamom and hints of bourbon and malted rum.
---
Thymes Simmered Cider Recipe
Thymes Simmered Cider is a warm welcoming to gather round, cozy up and celebrate the changing season.
2 QTS. Apple Cider or Apple Juice
4 Cups Cranberry Juice Cocktail
2 Tbl. Spoons Lemon Juice
2 Tbl. Spoons Honey
2 Tbl. Spoons Whole Cloves
2 Cinnamon Sticks (Broken into 1 Pieces)
Combine all ingredients into a large pot and bring to a boil.
Reduce heat to low and simmer for 30 min.
Serve Warm.
If too Sour add honey. It too sweet add more lemon.
Serving Tip - If you keep this in a slow cooker, it should stay nice and warm for hours.
---
Find Similar Products by Category